Each month, the Q-Online team takes time out from our busy schedule to visit a local restaurant.  During lockdown, we missed out on the chance to sample tasty local delicacies in Croydon together, but could continue support local businesses thanks to delivery services.
In July, the Chancellor of the Exchequer, Rishi Sunak, unveiled his new strategy to give the hospitality sector a boost –up to £10 off per head for anyone that eats out to help out in August, including children.
While some people were sceptical and likened the scheme to the popular discount website, Groupon, we think it's a lovely way to get the community back together in a safe and controlled manner. Read on to see our list of fantastic Croydon restaurants to dine in this August.
Paratha Inn
This eye-catching new addition to the high street is well worth the visit. A traditional staple in South Asian countries, parathas can be enjoyed for breakfast, lunch or dinner. This August, grab a seat to sip on half-price Kashmiri pink chai before tucking into delicious homemade parathas, made with the freshest ingredients.
Little Bay
https://www.littlebaycroydon.co.uk/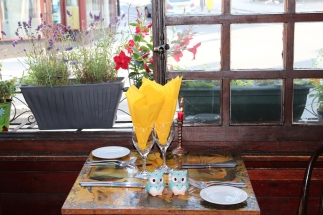 This eccentric local eatery is well-known for its delicious French and modern European cuisine. During August, Little Bay is offering 50 per cent off meals from Monday to Wednesday.  It's the perfect opportunity to arrange a meal with friends or family, while the live opera performances will keep you entertained throughout the evening.
The Store, Croydon
This beautiful new addition to South End is a feast for the eyes. The adventurous menu is sure to get your taste buds tingling as you delve into their array of small plates, brunch dishes and delightful Sunday roasts. Popular favourites on the menu include the new vegan French toast and the creamy burrata with juicy pink grapefruit, toasted pine nuts and basil oil.
Ponte Nuovo
The fine Italian cooking at Ponte Nuovo oozes sophistication and plenty of flavour. The modern and stylish surroundings provide the perfect scene for friendly catch-ups and you can take pleasure in having someone else do the cooking. With pizzas, salads, risottos, antipasti and heaps of pasta dishes on the menu, you'll be spoilt for choice.
Imperial Lounge and Restaurant
http://www.imperiallounge.co.uk/
Located in Airport House, Purley Way, this restaurant boasts a team of top chefs who have worked in some of the finest hotels and know exactly how to leave you with a memorable dining experience. Be prepared for an impressive dining experience once you step through the doors, as the impressive Indo-Chinese menu will have your mouth watering in seconds.
Think we've missed an amazing local restaurant off our list? Let us know by getting in touch with us on social media. You can find us on Facebook, Twitter, LinkedIn or Instagram.