Two years after making one of the biggest changes to secure search that resulted in a steady rise in "(not provided)" data, Google has now switched all searches over to encrypted searches using HTTPS.
Before, Google only used to protect people's searches when they were actually logged in to gmail. But now, even when you are not logged in, if you use private browsing (or incognito mode) and forcibly type HTTP://www.google.com, you will be redirected to the HTTPS version, thereby encrypting your search and no doubt leading to a total removal of keyword data – at least from Google search visitors.
This means that no more keyword data will be passed to site owners. So my discussion starts here; how non-availability of keyword data affects your SEO, and what you can do about it.
Build a new SEO strategy for 100% Secure Search – but base it on traffic, not ranking
Businesses tend to hire SEO agencies simply to achieve top ranking under their high search volume keyword, using this as their main online success KPI. The assumption was that, the higher the ranking, the higher the traffic and resultant business, which had generally worked for agencies and firms – until now.

Since the release of 100% secure search, the concept of SEO has changed completely. Now, you can't see the keyword data or know for sure which keyword is driving your traffic. Google has already started delivering most of Organic traffic in No provided but you can still see some data. Keyword data will completely disappear in next few weeks.
So what should your strategy be now? The answer is it depends on what you want to achieve as a business. As a car dealer, you want to sell cars and need more views per vehicle. So you should look at how to drive more visitors back to your site and find out how many are actually viewing your cars.
Now the SEO strategy for 100% Secure Search is more about building the right content on your website that not just keep attracting new customers but also keep your visitors there for as long as possible, and direct them towards your conversion page (e.g. Vehicle Detail Page)
Certainly this can vary from business to business, but the above suggestion is just one example.
New link building strategy for 100% Secure Search
Where Google 100% secure search has demolished stopped the branded Vs. Unbranded traffic discussion, it also demolish the importance of building links based on exact match anchor text.
Example: hundreds of external websites linking back to your landing page with the exact anchor text "Used Car Dealers" as your keyword.
This strategy worked well for many years, but since the last few algorithms exact match anchor text links have become less effective. Now, Google's 100% secure search release means that the focus is now on building a brand rather than building links on exact match. This is actually great news as it will kill off lots of spammers and link building will be considered more as a brand building technique.
Many industry experts now believe that brand mentions are a key ranking signal in Google's algorithm. Mentions of a brand or company name, even without a link, are considered very effective.
On the whole, the meaning of link building has changed. It's no longer about building links, but building mentions instead. Building your website reputation and positioning according to the keywords you are targeting (with or without links).
So the strategy should be now to earn links by serving your customers well, while increasing your brand value is the strategy to follow for the long term.
Your New Content Strategy for 100% Secure Search
Remember? Content is king, no its not king and its King again.
Businesses obsessed over rankings of their 'top money' keywords must now shift their focus to content building. The release of Google's Hummingbird algorithm has put content back into centre position once more. Content is now king without any doubt.
It's now important that
You build content based on your users' needs, answering their questions rather than just basing it on your keywords.
Fresh content has always been important, but it's now critical for the success of your website. Carry on building fresh content so it can continue appearing on Google under various new long tail keywords.
Your Mobile Search strategy for 100% Secure Search
This might be slightly off-topic, but it's important to mention here to help you understand how search engines and user behaviour are changing, and why it's important to address this in your website/content.
Most of the big companies are already started to address this, spending money on building their presence on mobile searches. However, smaller businesses are still not willing to accept that mobile search is now as big as its desktop counterpart and in some industries it has even taken over. For example:
More people access social media sites through mobile/iPads than desktop.
More people access entertainment sites through mobile.
A few other key facts
Over 1.2 billion people are searching on mobile – based on 2012 data.
Over 65% of total UK population use smart phones
The prediction is that by 2014, mobile searches will have taken over the desktop search in most industries.
Also other thing to note here is that user search in very different way than on desktop search. User these days also have voice search and auto type functionalities on mobile which works very different than desktop.
As a car dealer or local business you must address this shift in sooner rather than later. You must build a website with content that matches the way people search on mobile.
In terms of mobile SEO – in its Hummingbird release, Google has especially adapted itself to serve the needs of mobile users. Catering to a mobile audience by creating a mobile version of your site with a faster loading time, fewer images, easy navigation, etc. is another way you can meet the expectations of the Hummingbird algorithm. Most importantly, your site should be easily crawlable and load quickly. Users hate sites that are slow and Google always panders to its users.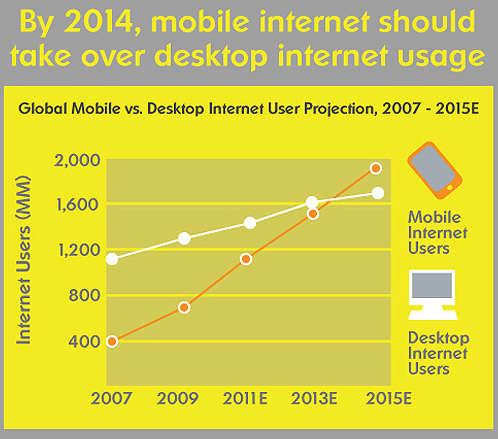 SEO Reporting
: Branded Vs Un-Branded keywords search traffic report is no longer an effective way of measuring SEO performance.
For years SEO agencies delivered their clients branded and un-branded keywords' search traffic to highlight the impact of SEO on the performance of their website. Please note an increase in unbranded search traffic is linked with SEO, whereas branded traffic is attributed more to other media efforts.
Now with the release of Google's 100% secure search results, this Branded Vs. Un-branded search traffic KPI is completely ineffective and should no longer be considered as a KPI.
So what should you look at now as a key metric?
Number of visitors to your website.
Out of your total visitors, how many view your vehicle detail web pages?
How many visitors landing on your site from a search function view your contact us page?
This list can go on and on, depending on what and how much you want to know.
If you have any questions or need further help on this subject, please let us know as we will be happy to help.
Re-published with the permission of: Dealer Buzz