In the last three years we have noticed Google's major shift in the way it delivers results to searchers. At one point the search giant was focusing on delivering results by driving people to click onward to the website that contains information regarding the searcher's query. Today this is simply not the case. Google tries everything it can to "answer" the query at the top of its first page of results. We can see that with the introduction of features like 'snippets'.
Have you noticed when you search for a specific brand, for example, NIKE, what type of results you get? In the past you would simply get NIKE's retail website in the top position. This would then make the searcher CLICK on that website and potentially buy the product they are searching for. Today this is simply not the case. Now the results look something like this: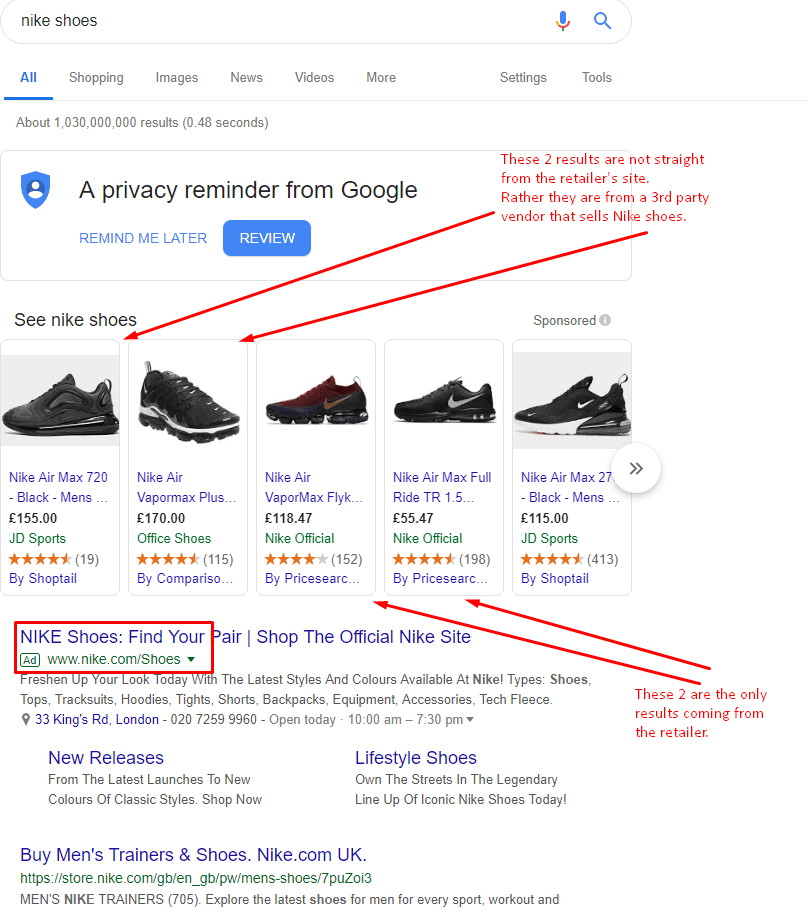 What does this mean in real terms? Well, if you are NIKE, you probably don't mind so much because your product is being sold and advertised anyway. What if you are a local retailer, though? Would you rather have your product sold by the third-party vendor advertised at the top of the page or would you rather have it sold through your own website? The correct answer is obviously you want the searcher to click on your website and buy the product from there. What this does is, when the searcher clicks, not only do you receive traffic, but potentially you can land another sale of a different product not sold by the same third-party vendor in the first two results.
This shift, from my personal standpoint, looks like it will only benefit Google. As Google strives to answer a search query, it is stripping away all the possible traffic that can be delivered to the retailers' site and maybe even causing them to lose out on other product sales as mentioned above.
As Rand Fishkin, the founder of SparkToro, mentioned at BrightonSEO (Search Marketing conference hosted twice a year in Brighton, UK), this behaviour is not exclusive to Google. Instagram has never allowed external linking, while Twitter and LinkedIn have both started focusing on showing you content that doesn't contain any links.
So what can we do to counter the decline in CTR today? One of the many things is whenever you do a keyword research start focusing more on the organic click-through rate. You might have a choice of two keywords that you can rank for, but you should always choose the one with a higher CTR. For example, keyword one has a search volume of 800 and keyword two has a search volume of 1,200, but the first keyword might have 70% CTR and the second one only 35%. You should definitely focus on the lower searched keyword because, in the long run, it will probably bring lots more traffic to your site and allow you to achieve higher sales. The way is to look for long-tail keywords or keywords that cannot be so easily answered with a snippet. This means that your content marketing should focus more on these types of keywords, rather than producing content for short-tailed alternatives.
Another aspect to focus on is on-SERP SEO, or the idea of doing everything possible to rank for these new features being added to the search engine giant. You can start by optimising for branded content, creating content for all the other Google-owned services (e.g. YouTube, Google maps, G News, Images).
At the end of the day, as much as we try to counter this shift using different methods, we simply won't do as well as our competitors who are actively taking advantage of the new features released by Google. As we progress into 2019, we at Q-Online suggest that everyone who uses organic SEO should start implementing on-SERP and in-SERP SEO.