Are you a local business or a business in general that is in need of finding innovate and efficient ways of promoting services, products or events to your target audience? That's exactly what Google did on June 22nd 2017 Google Introduced Google Posts.
What exactly are Google posts for Businesses?
Google Posts allow businesses with a GMB (Google my Business) profile to publish "Posts" these posts come in many forms such as
What's New – What's new with your business? want to introduce a new member? published a new article?
 Event – Which can be used to let their clients know that they will be hosting an event which will show off their new products or even services.
Offer – Do you have an offer that you know will appeal to your customer base? You might be a dentist that wants to let the local area know of the special offer you have on teeth whitening.
Product – Are you a retailer that wants to promote and show off the new 'shipment of products that you just received this can be achieved with Google my business posts
Are Google posts free?
Yes. But you will need access to Google My Business account in order to publish posts. You can create an account here https://business.google.com/create
How to create Google posts
Now that you understand what Google Posts are, the process of creating posts is simply.
The first step is to click the posts icon on the left side of your GMB dashboard. 
Depending on what you are trying to promote select a suitable post form, is it an update, event, offer or product that you are trying to promote.
Now let's say that you are trying to gain exposure to a wonderful piece of content that you wrote the other day, choose "What's New" add an image that grabs the attention of your audience and that is relevant to the article. Now you will have 1500 characters to fill in, a Pro tip would be to make sure that you use up all available space and make it as engaging as possible.
The Final step would be to add a button, it is optional to add this option but we would encourage you to add a button there are 6 different types of buttons
 Book
Order Online
Buy
Learn More
Sign Up
Call Now
In our case, because we are trying to promote our article we will add the button "learn more" and add the link to the article. Once you have completed all of the steps above, hit the publish button and that's it your post is now live! To check what it looks like on Google click the 3 dots on the bottom right side and then select "View on Search" this show exactly what it looks like on Google.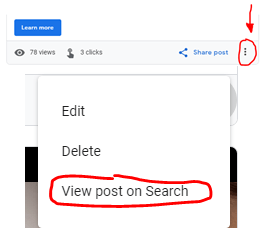 Why Use Google Posts
There are many benefits of using Google posts a few of them would be that it is FREE! there is no cost with using Google my Business all you need is to have a GMB account registered with Google and that it.
Your offers can gain additional exposure to hyper-relevant customers. As google posts only show up when a customer searches for your business and if you are optimised for your brand name customers are already warmed up to your business and could take profitable actions much more quickly.
Another reason as to my Google posts are amazing is the usability and ease of use.
Google Post Examples
Below are example of Google posts.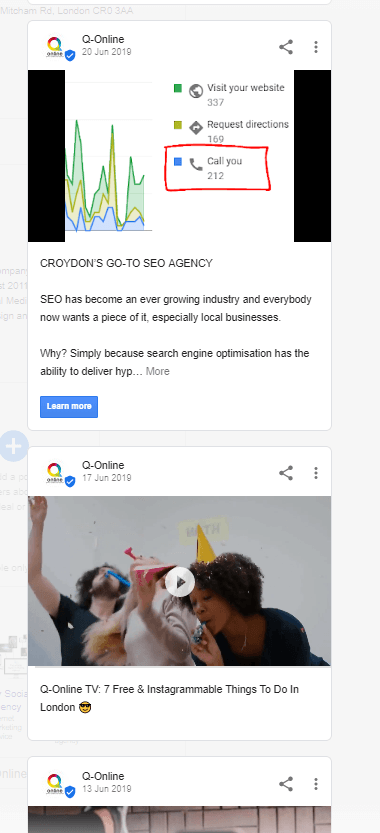 Google Post Best Practices
When it comes to best practices make sure that your images are clear and relevant to what you are posting.
Make sure that the headline and first sentence is engaging and stirs some sort of emotion that they make takes action.
Choose the correct button or CTA (Call to action)
If you have a video you can also add a video instead of an image. These can be more engaging and lead to more clicks back to your site.
The size of the photo needs to be at least 400 pixels wide and 300 pixels tall otherwise you will be prompted with an error message that looks like the picture below.

Need help with Google My Business?
If you feel like you need more help with your Google my Business to contact us and let us know about your requirements and we are more than willing to help. Call us on
020 8684 2933 or email our SEO team on team@q-online.co.uk