SEO has changed over the years. The methods and tactics have evolved and some things have been substituted for others. Any professional SEO has a set of tools that help them conduct an effective strategy for any type of business.
These are the top 10 must have SEO tools in 2019:
Google Search Console and Google Analytics
These two go hand in hand. They are the most valuable and important SEO tools that should be used with any digital marketing campaign. When you link Google Analytics with Search Console, you can get important information as impressions, clicks, positions, etc. Keep a close watch on your landing pages' statistics with Search Console.
Keywords Everywhere
This is an amazing tool. It is free and also easy to install as it is a web browser plugin. With any search query you get 2 boxes on the right hand side: Related Keywords and "people also search for". The information you get is:
Keywords Everywhere is really useful not only for keyword research but also content building. Often you might notice keywords which are relatively good but you never thought about. These boxes can be used for a content creation road map!
SEO Meta 1 Click
This is another plugin that gives you a lot of useful information. You can see clearly a page's title, meta description, canonicals (if any), Content structure (h1, h2, h3), word count, and others. When you click on the headers tab it separates all the headers <h1,2,3,4> from the rest of the content allowing you to clearly view the structure. There are also other tabs such as images, links, social. You can view all the relative information about them.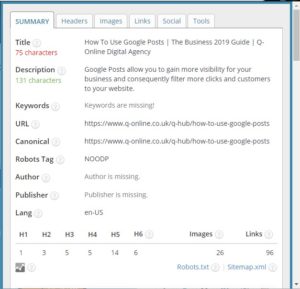 Ahrefs
This is probably one of the most complex tools in this list. To put it in simple words, it does absolutely everything regarding organic search report and website analysis. You can view an entire domain or specific pages within that domain. There are over all URL Rating (UR) and Domain Rating (DR). You can also view an extensive backlink analysis with things like anchor text, anchor text variation, location origin of the backlink, over time growth graphs, and much more. This tool is also great for competitive analysis or spying.
SEO Spy Glass
SEO Spy Glass is part of a software package called SEO Power Suite. I have broken them down because each tool does different things. SEO Spy Glass is used for competitor spying. It can provide you with a full back link report and run several competitors against each other (including you) to see where links intersect (same links) and where you can get link opportunities. It is a must have for any link building SEO expert.
Web Site Auditor
Website Auditor is also another part of SEO Power Suite. It is a tool that crawls your website and gives you an extensive report of what improvements are needed and any critical errors that may be present on the website. This is ideal for technical SEO professionals.
Rank Tracker
Rank Tracker is the 3rd part of SEO Power Suite. It can keep track of all your keywords and provides you with a history position changes. You can separate different projects (websites) and import keywords in bulk. It will also provide you with a score of how well a certain page is optimized for that keyword and where you need to work on to improve its ranking.
Page Optimizer Pro
Page Optimizer Pro is an amazing tool. It does exactly what it is named after. With this tool you can optimize your page in order to have the highest chances of ranking on top of SERPs. You can select an existing page or a page that is not built yet and run it against top competitors that come up on SERPs. The tool will tell you precisely what your word count should be and how the structure should look like. This way you can mimic what the competitors are doing and see what Google is rewarding for the specific SERP. It can also act as a content map and provide you with exactly what should be included in your content.
Screaming Frog
This is another free crawling tool. It is amazing because it will provide you with all technical errors of a website. Screaming Frog is very easy to use and can pull out any information from your website. Anything from page titles, headings, and meta tags, to things like site errors 4xx, 5xx, etc.
Yoast SEO
This is a must have tool for your WordPress website. Yoast is the go to plugin for SEO when it comes to optimizing pages with titles and meta tags. It is very simple to use and also has prebuilt templates to speed up the process. I would recommend going in manually creating your Title and Meta rather than using the automated process.
These are my top 10 SEO tools and I use all of them in different situations.
Useful Posts:
SEO Competitor Analysis and Tools
Why Is Keyword Research Still Important in 2019?
Tips For Creating a Good Link Building Strategy